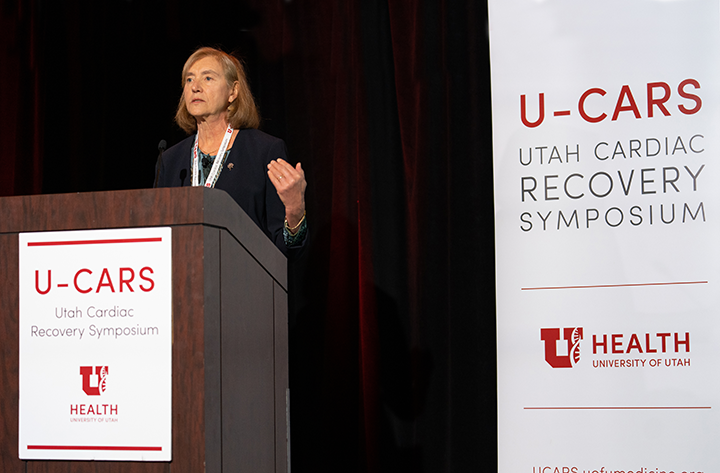 The 11th annual Utah Cardiac Recovery Symposium (U-CARS) was held on March 16th and 17th, 2023 at the Salt Lake City Marriott University Park. This year's symposium brought in more than 850 attendees, both in-person and virtually. On day one, sessions included a panel with clinical, biomedical engineering, and basic and translational science perspectives of what constitutes "good enough" myocardial repair and recovery/remission in chronic heart failure, as well as panels discussing innovation in cardiac metabolism, heart failure, and myocardial recovery, innovation in heart failure diagnostics and therapeutics, and innovation in gene therapy. Day two included panels on cardiac and patient recovery following cardiogenic shock, practical approaches to recovery and remission mediated by mechanical circulatory support, and a set of debates addressing dilemmas in acute and chronic heart failure. Twelve featured abstracts were selected for oral presentation and included presenters from around the world.
This year's keynote speaker was Christine Seidman, MD, who is the Thomas W. Smith Professor of Medicine and Genetics as well as the Director of the Cardiovascular Genetics Center at Brigham and Women's Hospital and Harvard Medical School. Dr. Seidman's talk, "Hypertrophic Cardiomyopathy: Reaping the Benefits of Genetic Insights," was a detailed discussion of gene mutations that cause disease as well as genetic variations that increase the risk of disease.
U-CARS 2023 was a great success and we were thrilled to be back at the meeting in person. Save the date for U-CARS 2024 which will take place on February 8-9, 2024 in Salt Lake City, Utah.