DIVISION OF GENERAL SURGERY - SUMMER 2023 UPDATES
FACULTY & PROGRAM HIGHLIGHTS
Associate Professor of Surgery and Associate Trauma Medical Director at University of Utah Health Jade Nunez, MD in partnership with Adam Gyedu, Associate Professor at the Department of Surgery, College of Health Sciences, School of Medical Sciences, Kwame Nkrumah University of Science and Technology, Kumasi were awarded the $90,000 USD Laerdal Foundation grant for their submission, "Ghana's Surgical, Anaesthesia and Obstetrics Indicators Collection: A feasibility study for the Utstein Perioperative Metrics Project"
Bartley Pickron, MD was accepted to the American College of Surgeons – Surgeons as Educators Course.  This is a competitive course for admission and will prepare him to serve as the Fellowship Director for the upcoming Colorectal Fellowship.
Toby Enniss, MD graduated with an MBA from the David Eccles School of Business at the University of Utah and was awarded the 2022-2023 Outstanding Graduate Award based on his academic performance and co-curricular achievements! Truly amazing especially when one considers completing this while maintaining a full clinical load and running the trauma program. Looking forward to seeing him put his new knowledge to use!
Gia Lewis, MD and Irma Fleming, MD, along with Andy Hong PhD, PE, and Jennifer Weidhaas, PhD, PE, both researchers in Civil and Environmental Engineering, have been awarded a 1U4U Innovation funding for project "Nanobubbles for disinfection of nosocomial pathogens." 
Marta McCrum, MD, MPH and team team received one of the new DELPHI pilot grants this year for their work on using modularity optimization to idea natural networks of emergency general surgery care.  
 
John Hyngstrom MD is the Institutional PI on three cooperative group (SWOG, NRG/ECOG) studies evaluating neoadjuvant immunotherapy and surgical margins for high-risk resectable melanoma patients. Our site had highest SWOG accrual for S1801 trial establishing clinical superiority of neoadjuvant immunotherapy for stage III melanoma patients (Patel S. et al NEJM 2023). https://www.nejm.org/doi/10.1056/NEJMoa2211437    
Director of the UTSTARS Program, Elliot Asare, MD, MS, has another amazing class of under-represented minorities in medicine and surgery joining us from across the country this summer. These five students were selected from a highly competitive applicant pool to join the Department of Surgery's immersive six-week Utah Summer Training Academy for Rising Surgeons Program (USTARS) from May 22 – June 29, 2023. Over the next six weeks, 45+ of our faculty and staff will join together to provide these students headed into their MS2 year with:
30 capstone project hours
140 shadowing hours
12 leadership and personal growth hours
8 lab hours
4 Anesthesiology simulation hours
And many opportunities to connect, grow, and learn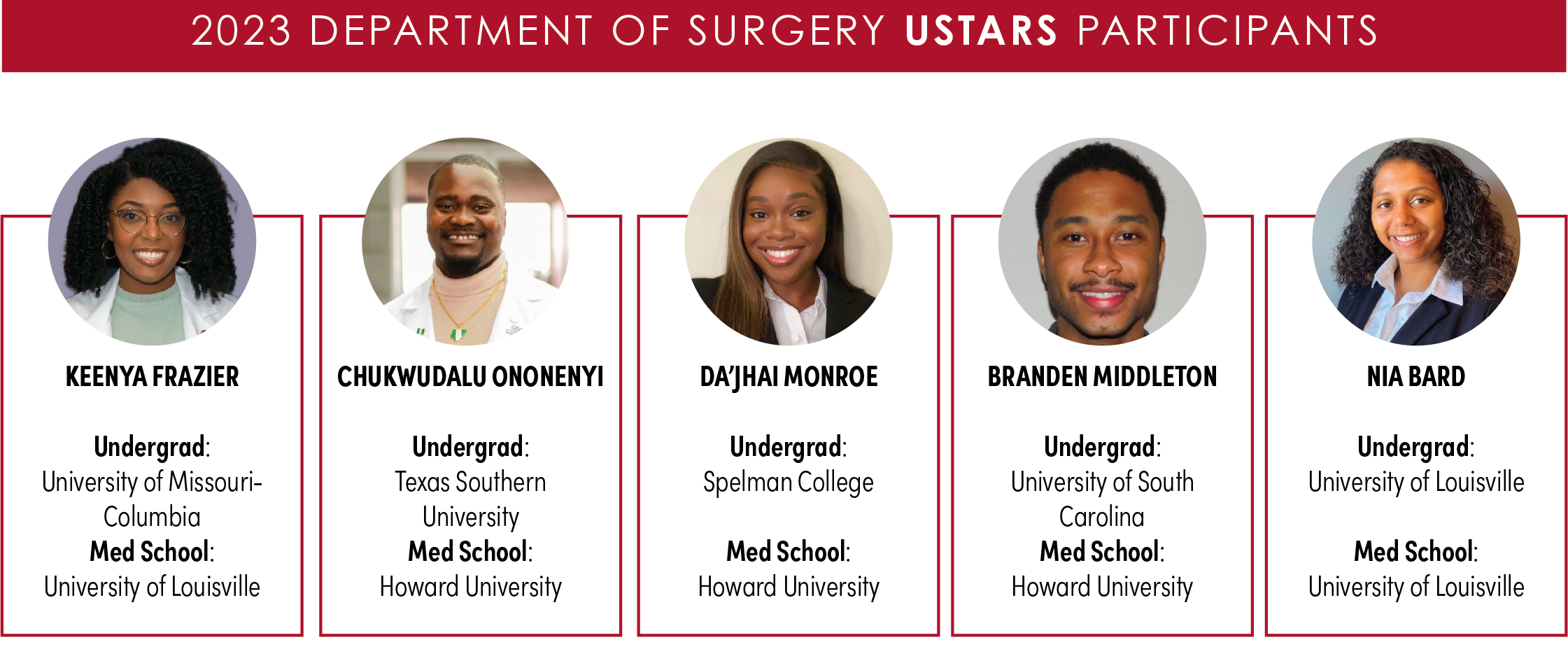 Dr. Baker earned his undergraduate degree from Duke University and medical degree from Dartmouth Medical School. He completed general surgery residency at Northwestern University. While at Northwestern, he pursued a three-year post-doctoral research fellowship in transplant immunology and obtained a master's degree in business administration with a focus on health industry management and finance from the Kellogg School of Business. Following residency, he completed a clinical fellowship in advanced hepatopancreaticobiliary surgery at Indiana University Medical School. 
Dr. Baker started his clinical practice and academic career in Chicago. He served sequentially on the faculties of Northwestern University Feinberg School of Medicine, the University of Chicago Pritzker School of Medicine, and Loyola University of Chicago Stritch School of Medicine where he was promoted to full professor. During these years, he developed and was recognized for clinical expertise in minimally invasive laparoscopic and robotic approaches to foregut oncology. He had a productive clinical research lab which employed advanced analytics to evaluate clinical outcomes and cost effectiveness for different treatment approaches to foregut malignancy. 
In the short time he has been with us at the HCH he has already performed the first robotic distal pancreatectomy here - Welcome Dr. Baker!
---
Erin P. Ward, MD is a surgical oncologist who specializes in the management of appendiceal tumors, neuroendocrine tumors, gastric cancer, and metastatic colorectal cancer. She is joining Dr. Lambert in the Peritoneal Malignancy Program helping to offer more patients access to cytoreduction and hyperthermic intraperitoneal chemotherapy (HIPEC). She joined in November 2022 after completing her residency in 2020 at the University of California San Diego and a 2-year fellowship at the Medical College of Wisconsin in Complex Surgical Oncology and HPB. She moved here with her 2-year-old and husband, they all now live with their two dogs in an old Victorian they are fixing up in the Avenues. She is actively pursuing research projects looking at the impact of psychosocial health on gastrointestinal cancer patients' surgical outcomes and investigating the impact of next-generation sequencing on prognosis for patients with PMP. She aspires to get back to her pre-kid hobbies any day now, including yoga, drawing, and running.
---
Chris LaChapelle, MD joined the division as a burn surgeon in September of 2022.  He is originally from central Massachusetts and worked as a physical therapist for several years prior to attending medical school at Boston University School of Medicine.  He completed general surgery residency at the Icahn School of Medicine at Mount Sinai and fellowship in burn/trauma/critical care at UT Southwestern.  He has really enjoyed hitting the slopes this winter after taking a 20+ year hiatus from skiing.  Amazingly, he has remained injury free!  He's been enjoying his free time this spring on the trails with his partner Adrian who works on the business side of theater and the arts.