Life after Surgery: Retirement Edition with Dirk Noyes
My name is Dirk Noyes and this is the story of my "life after surgery."  As a brief introduction, I attended college at the University of California, Berkeley in the tumultuous 60s, then on to medical school at University of Rochester before the five years of general surgery training under Dr. Frank Moody from 1973 to 1978 in Utah. 
Following my general surgery training, I was accepted into the newly formed two year Surgical Oncology fellowship at MD Anderson Hospital at University of Texas. I returned to Salt Lake City in 1980 as the first fellowship trained surgical oncologist in Salt Lake joining the Intermountain Clinic for 10 years before entering solo private practice. I was director of the University of Utah general surgery residency and medical student training program at LDS Hospital for 20 years which I very much enjoyed. I also had great passion for cancer clinical trials participation that led to my appointment at the Huntsman Cancer Hospital when it opened in 1999. The last 10 years of my career, I focused on the research and treatment of malignant melanoma jointly between Intermountain Healthcare and the Huntsman Cancer Hospital at the University of Utah, developing one of the premier melanoma programs in the country.  This clinical melanoma program was the very first joint venture between the local, highly competitive University of Utah-Huntsman Cancer Hospital and the privately run Intermountain Healthcare conglomerate. 
As I approached age 60 in 2007, I began thinking and planning about when and how I would/should retire. I was very busy and happy in my practice and never experienced anything close to what most referred to as "burnout."  I most enjoyed teaching, operating, taking care of patients, traveling on surgical humanitarian missions, as well as going to the office on a daily basis.  I knew that eventually I would have to retire, as all surgeons must, but I was very determined that I wanted to enter that phase of my life on my own choosing. I had seen so many of my highly respected surgical mentors/professors in Salt Lake over the years forced to retire, usually for age related issues, and I wanted to retire on my own terms before that happened to me. I also knew that I needed to find activities that would keep me as busy and happy as I was in my 30 year professional life. My financial advisors, who had been working with me for over 20 years, informed me that because of my "frugal nature" I could retire comfortably at any time I chose.
My initial concern was to make sure that the highly regarded melanoma program that I helped set up between the Huntsman Cancer Hospital and Intermountain Healthcare was in a position to carry-on successfully without me and continue to grow into an internationally respected melanoma research program. I was very proud to be an active contributing clinician/researcher at both institutions. It was apparent to me that before I retired I needed to hire more melanoma surgeons to carry the load of my very large melanoma practice, as well as continue to support all the important research protocols that I had helped put in place at both hospitals studying this disease.  I was able to oversee the hiring of three more surgical oncologists with a melanoma subspecialty for our community. They were all trained at my alma mater, MD Anderson Hospital in Houston, and it took almost 4 years to get this accomplished into the year 2011. 
I also knew that it was very difficult for busy active surgeons to be operating one day and then have it gone the next day. I had most enjoyed volunteering for the surgical humanitarian missions to so many different Third World countries during the last 25 years of my career. I figured that I still had the mind, skills and energy to continue to participate in those surgical endeavors during my retirement rather than leave the scalpel behind abruptly as most surgeons do. These were teaching missions for surgeons in underserved countries but also I was able to include and teach Utah surgical residents (Wendy Grant, Marcus Torgenson, Greg Livers, Peter Brant-Zawadzki), as well as including a few alumni, Dom Albo, Courtney Scaife, Glenn Winslow, and James Foxworthy from our program. 
My wife, Catherine, actually retired about nine months before I did from her long-term profession as an escrow officer in a title insurance company. I was well aware that she wanted to travel on those cultural volunteer missions with me.  I figured that I could ramp up the number of those missions that I went on in my retirement, and with Catherine as my assistant, it would be even more enjoyable in those travels and surgical work than it was before.  We eventually did five to six missions a year after my retirement from clinical practice on January 1, 2013. This was a very enjoyable and rewarding way to give back and enter the retirement phase of life without going "cold turkey" abruptly leaving the busy surgery life behind.
There were several passions that I have had in my life that I was most hopeful would play a big part of my retirement. First was the game of squash which I learned to play in medical school.  I cajoled many of the residents and medical students to come down to Squashworks (which I built and co-owned) to learn/play the game with me when they were rotating on the surgical service through the years.  In retirement I continue to play several times a week as "senior squash" with good friends but also realize that (much like golf) squash was not a sport that could completely and happily fill all the hours of a day while retired. I knew that it would be and still is an important part of my post surgical life as long as I can physically and mentally play the game.
The other sport that I knew I would continue in retirement is sailing. Again, many residents and medical students that I taught over the years got dunked in Deer Creek Reservoir off of the different Hobie Cats that I owned and sailed. I have continued to sail in my retirement and now do bareboat charter sailing from different ports around the world teaching my children to become seaworthy boat captains after my time is up.  It is a great sport to enjoy travel long to different cultures and spend time with close friends and family.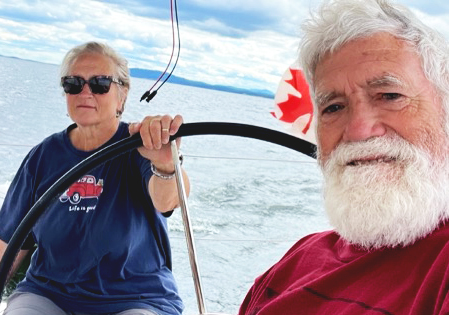 As a "water person," most of my life I also  have had a large outside water feature at home with two waterfalls and many koi fish. In March of 2012, I decided to add a 240 gallon saltwater aquarium for inside our home. The outside pond pretty much laid dormant during the winter months and the inside aquarium would keep me pretty busy tending to the corals and fish year-round.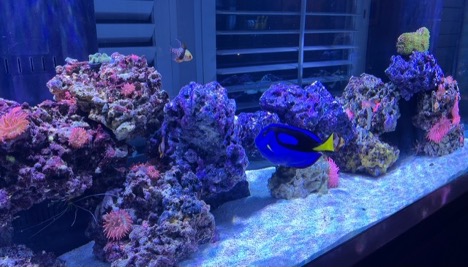 Probably the most important change that I made for my "life after surgery" was the purchase of an 80 acre piece of land along the Utah-Wyoming border high in the mountains at 8000 feet.  My wife and I had been talking about getting horse property which was one of her passions. I had an 84-year-old retired surgeon as a melanoma patient who for several years had been inviting me up to his cabin to go fishing. I finally accepted that invitation in June of 2012 and was completely blown away by the abundant water, beauty, solitude and the possibility of a complete lifestyle change for me in my retirement. When he told me that he was putting it up for sale, we bought it on a handshake without realtors, attorneys, or other complicating issues.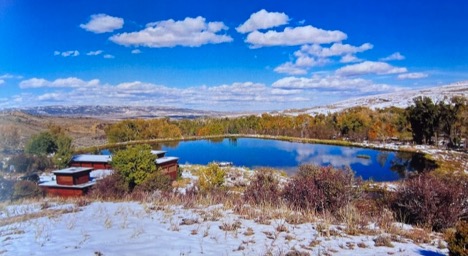 We did have horses "borrowed" from Cath's cousin, that we enjoyed up there for the first couple of summers. It was apparent that it was not an ideal piece of property for year-round horses because of the severe winters at high altitude unless someone was up there 24/7 to feed and care for them.  Nevertheless, it has been an important part of my retirement now having taken over 250 trips up there (300-mile round trip from SLC) year-round in the more than 10 years that we have owned it.  While not a true rancher, I must admit that I learn something new about "ranch life" every trip that I make up there.
The other important addition to our retirement plans was the purchase in April of 2012 of a small, 20 ft trailer to travel around the country seeing sites that we had never visited before, as well as catching up with friends and family from coast to coast. This was the perfect way to travel during the pandemic.
We also informed our five children that we very much enjoy family trips with them which we hoped to continue in retirement. We had been taking family vacations with everybody together but then with grandchildren, jobs, schooling, sport schedules, etc. it became much too complicated to schedule up to 20 family members who are spread across the country that worked for everyone. We let the kids know that we were not interested in leaving them money in a will but would rather spend that inheritance with them while we are still alive. We now take individual family trips for each of the five families, where they do all the planning, including where to go, hotels, airfare, and activities several times a year. (Iceland, Ireland, Sicily, Thailand, Hawaii, Grand Canyon to name a few so far). They know that we most enjoy these trips and will continue to travel with them as long as our health lasts, and the money to be inherited is not totally depleted!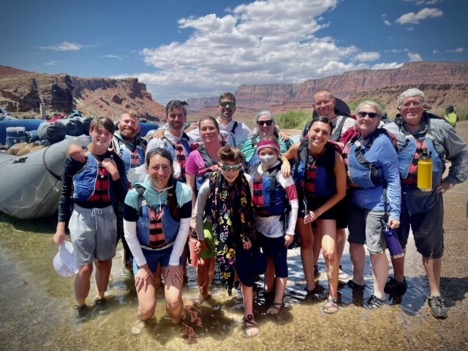 I officially retired the end of December, 2012 but Catherine jokingly reminds me that I was really retired that whole last year. I elected not to take any more new patients, referring them to Drs Tawnya Bowles and John Hyngstrom, who were the latest melanoma surgical oncology hires while I was still working. I also very rarely attended any of the educational meetings or tumor boards that were part of my routine hospital daily life that last year. I wanted my colleagues to get used to NOT having me around and realize that I was serious about being retired after age 65. I also passed on to my junior partners all the requests to give talks locally and around the country. I also turned over the many melanoma research trials that I was the principal investigator on to Dr. Robert Andtbacka who was my first surgical oncology hire to join my practice. Dr Elliot Asare joined the melanoma group shortly after I retired.
One other enjoyable part of the retirement life for me, has been my ability to help friends and family navigate through our increasingly complex medical system and help educate them about their own (or friend's) medical conditions.  While my personal expertise has been in the field of cancer I am more than willing to look up references on other medical maladies and make referrals to specialists which are most appreciated. As a retired surgeon I felt totally helpless during the pandemic and I was not an expert in managing ventilators or ICU care. After a long arduous & bureaucratic process (including fingerprinting by the FBI) I was able to sign up as a volunteer to give vaccinations which I totally enjoyed.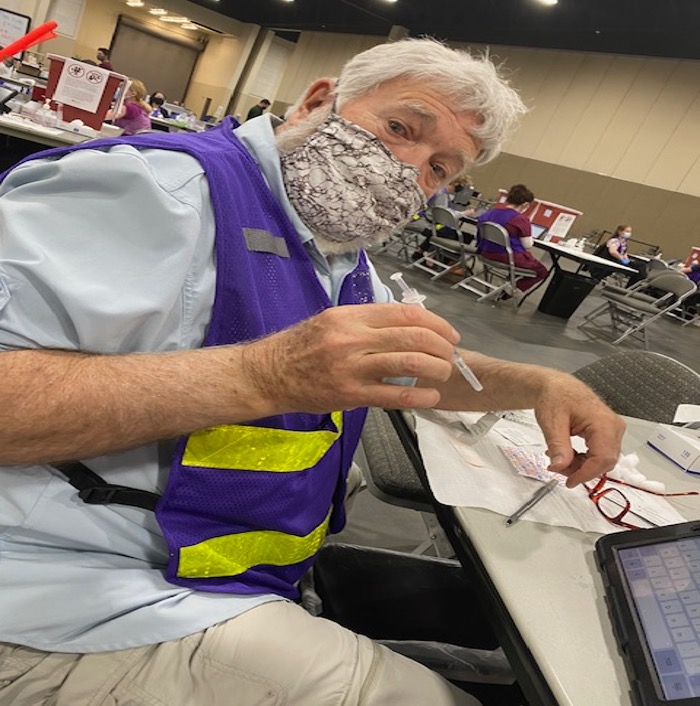 As a post script to this story, I should mention that I have had multiple requests from previous surgical residents that I taught, to give talks on how to retire and "live happily ever after."  I have refused these requests because, as part of my retirement, I have given up public speaking where preparation has always been such a long process and considerable stress for me. Of course, I am more than willing to privately share my experience in planning for retirement and the subsequent enjoyable life with whomever asks.
I was wisely advised that the first year of retirement tends to be very expensive and it was!  My most important message to all that read this newsletter is to start preparing early and carefully well BEFORE you retire and enjoy this very special time of life as best you can.