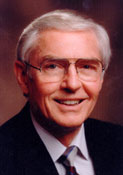 The Division of Pediatric Surgery at the University of Utah was formally established in July 1971 with the recruitment of Dr. Dale G. Johnson, formerly an Assistant Professor from the University of Pennsylvania and a Senior Staff Surgeon at the Children's Hospital of Philadelphia.
The recognition of pediatric surgery as a legitimate subspecialty within the field of general surgery had been in process for several years at this time. Dr. Keith Reemtsma, surgery chairman at Utah, 1966-1971, though not formally trained in pediatric surgery, had a genuine interest in the surgery of children. Correspondence with Dr. Johnson, a founding member of the American Pediatric Surgical Association, had been progressing for over one year. In March 1971, Reemtsma was appointed by the American Board of Surgery to chair a subcommittee for the purpose of evaluating the final petition for specialty certification of pediatric surgeons. Reemtsma left Utah to assume the chairmanship at Columbia University in the spring of 1971, before Dr. Johnson arrived. The American Board of Surgery unanimously approved certification in pediatric surgery in June 1972. Dr. Johnson was among the first group of American surgeons to receive certification.
The appointment of Dr. Johnson also involved a new and formalized relationship between the University Department of Surgery and Primary Children's Medical Center. The agreement involved physical location of the Division of Pediatric Surgery within the Primary Hospital. The pediatric surgical training experience for Utah surgical residents was developed at the same location. This arrangement has persisted to the present.
Since early beginnings in 1971, the division has grown both in surgical volume and in surgical case complexity. The current clinical case spectrum is consistent with the best centers nationally in terms of case acuity, complexity, and outcome.
Pediatric surgical faculty additions have included Dr. Michael E. Matlak in 1976 (Mayo Clinic, National Children's Hospital, Washington, D.C.), Dr. Richard E. Black in 1981 (Duke University, University of Utah, Cincinnati Children's Hospital), Dr. Rebecka L. Meyers in 1994 (University of California, San Francisco, St. Christopher's Hospital for Children, Philadelphia), Dr. Eric R. Scaife in 2001 (University of Utah, St. Christopher's Hospital for Children, Philadelphia, Children's Hospital of Philadelphia), Dr. Earl C. Downey in 2001 (San Diego Naval Hospital, Children's Hospital of Los Angeles), Dr. Peter F. Nichol in 2005 (University of Wisconsin, Children's Hospital of Philadelphia), Michael D. Rollins in 2007 (University of Utah, Washington University School of Medicine, St. Louis Children's Hospital, St. Louis, Missouri).
These surgeons are all certified by the American Board of Surgery in General Surgery with additional subspecialty certification in Pediatric Surgery. Their professional interests and training backgrounds cover the broad spectrum of pediatric surgical science and technique consistent with the current advances in the field.